Call for Entries
"Our Summer of Love and Resistance"
In the spirit of social progress and vibrant visual energy
Avenue 12 Gallery
1101 Lake Street at 12th Avenue
San Francisco, CA 94118
Submission Deadline: May 10, 2017
"Our Summer of Love and Resistance" Description
Avenue 12 Gallery invites Bay Area artists to submit work that invokes the San Francisco spirit of social progress and vibrant visual energy. Not only by honoring 50 years since the Summer of Love, but as a call to reflect on our current political environment, and celebrate visual art that resists oppression.
Exhibition Dates
June 23 to Aug 26, 2017
Opening Reception planned for June 24, 6 to 9 pm
Submissions:
Due by May 10. Notifications by May 20.
Contact:
Vince Meyer
(415) 750-9955
0r
Rachel Murray Meyer
rachel.ave12gallery@icloud.com
www.avenue12gallery.com
About the Gallery
Avenue 12 Gallery is a new contemporary art gallery in San Francisco with a focus on artwork by emerging and mid career Bay Area artists.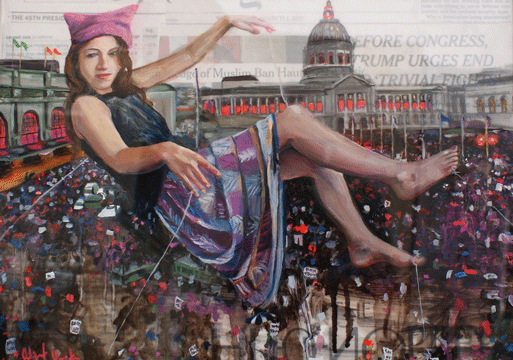 Abigail Drapkin
"Float Like a Pussy Hat, Sting Like a Bee" (Detail)
Oil and Newspaper on Mylar , 10"x12", 2017