Now Open
Macro | Micro: Site to Psyche
Avenue 12 Gallery presents Macro | Micro: Site to Psyche, a group exhibition of three award winning San Francisco ArtSpan artists: Elizabeth Ashcroft, David Avery, and Beth Davila Waldman. Beth Davila Waldman's "Mollendo" series is the result of six odysseys to the site of her maternal homeland Arequipa, Peru including the former capital town of Mollendo. Once a vibrant and prosperous port town, today it is mostly a ghost town of colorful ruins existing with a few present day homes. This juxtaposition of shifts in time, culture and economy was Waldman's inspiration for the series. Elizabeth Ashcroft refers to herself as an "altered book artist" and calls her latest series "The Dissected Library". The duality of the book as both a visual object and a conduit for ideas is a source of constant inspiration. David Avery is a practitioner of traditional black and white copper plate etching and has long been drawn to the works and techniques of the master etchers and engravers of the past 400 years as well as their literary counterparts.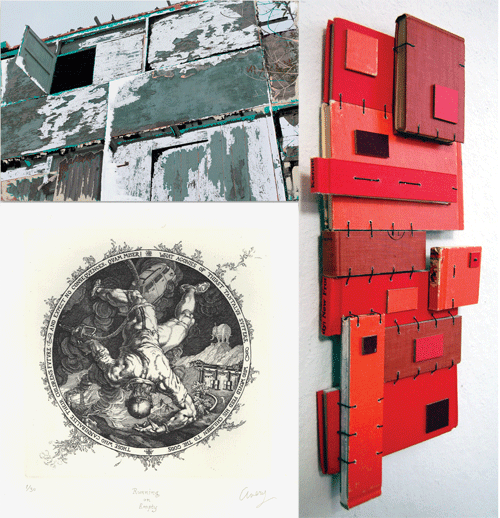 Now Open in the Media Space
Jeff Petersen: Entranced | Current State of Being
"I live and work in San Francisco, California with my wife and son. I paint and sculpt. Occasionally I illustrate books, posters and articles in magazines. I also paint murals.
I think mystery and the unknown are undervalued and also inspiring. My interpretations of the world are mostly rooted in nature and it's also where I find inspiration which I then, express through my art."
-Jeff Petersen
Jeff Petersen, "We Got Cut Off (Podman)" 2017
Archival ink jet printing on acid-free 100% cotton rag paper from an original Acrylic on Canvas.
Numbered edition of 5, 16 x 20 inches unframed
Beautiful fine art prints made by Electric Works in San Francisco
Upcoming Show: November – December 2017
Carol Levy
Our Summer of Love and Resistance
July 8 to August 31, 2017
Group Show of Twelve Artists
Avenue 12 Gallery presents Our Summer of Our Love and Resistance, a group exhibition of Bay Area artists on view July 8 to August 26, with a reception Saturday July 15. As part of San Francisco's 50th year commemoration of the Summer of Love, Avenue 12 Gallery is proud to provide a place where Bay Area artists can connect with the community by showing their work in response to the current political environment. As was true of the 60's, it is our belief that now is the time for art to provide an emotional release, the energy to move dialogue forward, and provide a sense of meaning to hope and struggle. Original artwork in a variety of mediums, as well as fine art prints, will be available.
Kevin Keul
Unexpected Landforms: Aerial Observations
May 6 – June 25, 2017